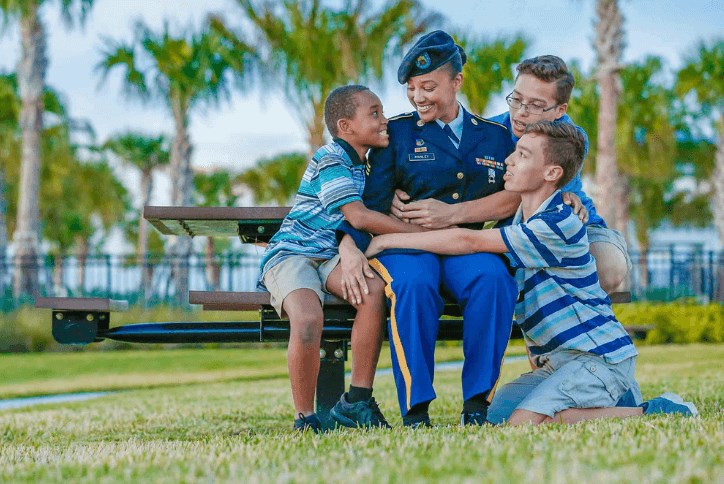 Resident Spotlight: Star and Corey
Looking for a new home can be a difficult process – especially for those retiring from the military. But for Star and Corey, Waterset made it simple. From the home search process to signing the final paperwork, Star and Corey described their Waterset home-buying experience as almost being "too easy," even from out-of-state.
An Easy Choice for Military Families
After Star returned to Maryland from active service, she and her husband wanted to move somewhere sunny and warm. Their search for a new home took them to Apollo Beach, Florida. Here they immediately fell in love with Waterset. The couple was instantly sold on the community's abundance of nature, wildlife, and beach-like weather. Since Waterset is home to many other military families, Star and Corey felt even more confident in their decision.  
Waterset = One Big Family
For any parent, finding a safe community is extremely important. Waterset's strong sense of community was a major selling point for Star. Now, their three kids can bike to school, enjoy the pool, or simply venture down the street to hang out with friends. Star says she is so grateful to live in a place where every parent looks out for other kids in the community as their own.
Where Neighbors Become Lifelong Friends
Corey describes Waterset as a very friendly environment where no one is a stranger. It's uncommon in today's world to know your neighbors beyond a friendly wave – not so in Waterset! Corey says he appreciates the fact that neighbors are always looking out for each other – even if it's just grabbing the mail while his family is out of town. It's these small gestures that turn Waterset neighbors into lifelong friends.
When Star and Corey moved to Waterset, they didn't just find a new neighborhood. They found a close-knit community and a feeling of home. Want to experience life in Waterset for yourself? Contact us to learn about becoming a Resident For a Day!