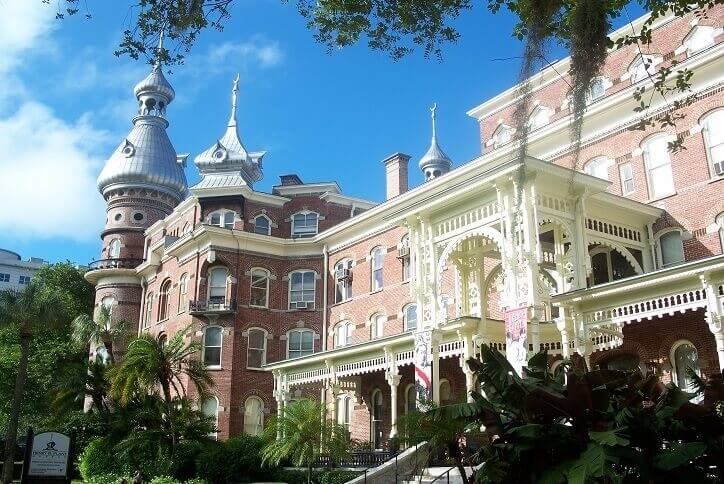 Calling All History Buffs & Art Lovers
For history buffs and art lovers, Tampa Bay is a cultural jewel. The region is home to several nationally recognized museums. Whether you're a newcomer or a native, these treasures are worth visiting.
Tampa Museum of Art is one of the largest museums in the region with a permanent collection devoted to contemporary and modern art as well as Greek and Roman antiquities. Visitors will also find a healthy collection of new media and contemporary photography within the museum's two stories.  Bordering Curtis Hixon Park in downtown Tampa, the art museum, its café and grounds are a popular location for community events like Fourth Friday, when the museum offers pay-as-you-will admission.  Additionally, its community outreach includes art classes for children and adults, lectures, museum tours and summer camps. More than half of its programs are offered free of charge.
Historical figures who shaped the area come to life at the Tampa Bay History Center. The kid-friendly, interactive museum offers three floors of both permanent and temporary exhibits that cover 12,000 years of Florida history.  Some permanent collections include exhibits Florida's First People, Icons of Tampa Bay, which include symbols and events unique to Tampa Bay such as a Gasparilla ship, a street car, and a steam engine, Cigar City, which explores Tampa's world renown industry and Cowman & Crackers, which presents the region's cattle ranching business. 
The minarets that sit atop the Henry B. Plant Museum are Tampa's most enduring symbols. The Plant Museum, on the campus of the University of Tampa, was once the lavish and opulent Tampa Bay Hotel. Railroad magnate Henry B. Plant used his own money to build the world- famous palace, which saw an eclectic list of guests during the Gilded Age, including movie stars, politicians and the rich and the famous from around the world.  Today, visitors to the Plant Museum can view the hotel's original furnishings and artifacts which are on display. They include works of art and other home furnishings selected by Henry Plant and his wife during their visits to Europe and the Orient. Enjoy a self-guided audio tour or ask one of the knowledgeable docents about the Victorian lifestyle of the Gilded Age.
The Dali Museum in St. Petersburg celebrates Salvador Dali's life and works with more than 2,100 of his pieces on display. The collection includes oil paintings, illustrations, drawings and an extensive archive of documents.  The Dali Museum opened in 1982, launching St. Pete as one of Florida's most cultured communities.  Over the years, the Museum has added to its initial collection, and in 2011 moved into its current building in downtown St. Petersburg.
Above are some of the most popular museums in Tampa Bay, but be sure to check out these great destinations as well:
Glazer Children's Museum, which offers a hands-on learning environment for kids.
Museum of Fine Arts, St. Petersburg's collection has thousands of artworks and other antiquities that span nearly 5,000 years of civilization. Be sure to check out some of the masterpieces by Monet, Georgia O'Keefe and Rauschenberg.
Morean Art Center celebrated its 100th year in 2017.  Its permanent collection of works by glass artist Dale Chihuly has been newly located to 15,000 square foot building on Central Avenue in St. Petersburg. The Morean is also known for its extensive children's outreach locations at several locations throughout the city. 

Florida Museum of Photographic Arts, in downtown Tampa features a collection of historic and contemporary photographs by nationally and internationally acclaimed artists.