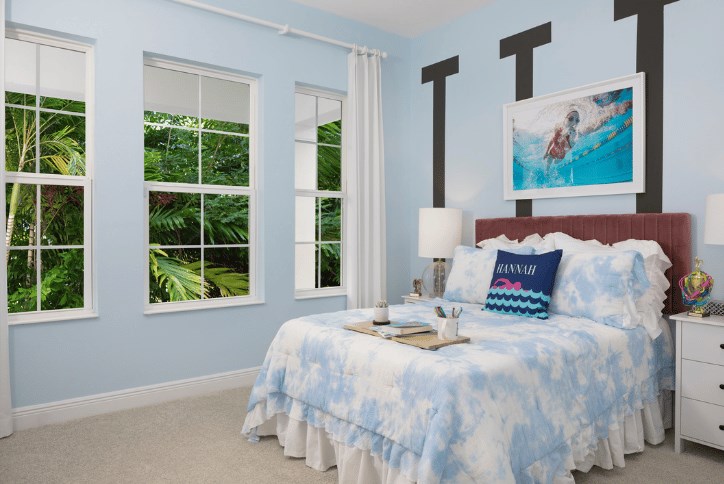 How to Make a Quick Move-In Home Feel Completely Your Own
Sometimes, when you need to move, you need to move fast. Maybe you've been sent a new military assignment or job transfer, maybe you've got a major life change that just snuck on you, or maybe you just want a new view, and quickly. Whatever the reason, many home-shoppers find Waterset's wide selection of Quick Move-In Homes appealing, with move-in dates anywhere from 30 days to many months. Although building a new home from the ground up allows for more personalization, our premium builders offer Quick Move-Ins in a variety of sizes and styles to fit any family with award-winning floor plans and finishes – and with a faster move-in date, you can get to the fun of decorating even faster! Here are a few tips for decorating and personalizing a Quick Move-In home in Waterset!
Use Natural Materials to Add Warmth and Texture
Many Quick Move-In Homes come with monochromatic interiors because they are classic but beautiful! If your new home comes with an all-white palette, you can add warmth and texture by using natural materials such as wooden or woven furniture.
The Brighton II model home by Cardel Homes pairs an all-white color palette with warm accents for a cozier feeling.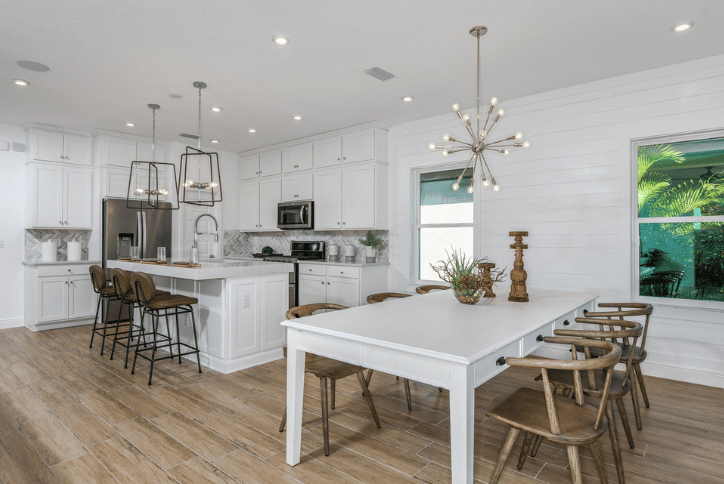 Add Space with Wall-Mounted Fixtures and Furniture
Sometimes it feels like there's no such thing as enough space, whether you're looking at one of the smaller homes in Waterset, or our largest floor plan (the Madiera III by Homes by WestBay sits at 4,218 square feet!).
One easy yet creative way to free up space is to use wall-mounted fixtures and furniture. From lighting to shelving to bedside tables, going vertical is a great way to take advantage of otherwise unused space.
Although the Key Largo II by Homes by WestBay sits at 3,560 square feet, a little extra storage is always welcome! We love these shelves and baskets in the model home.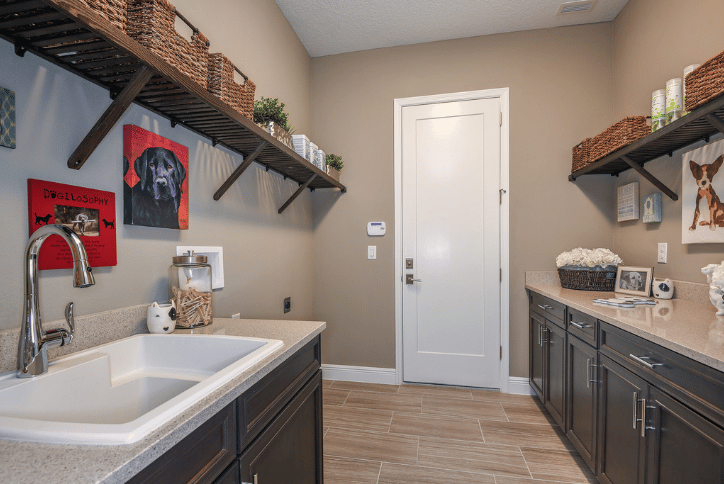 Blend the Outside with the Inside
If you're moving to a new home in Apollo Beach, chances are you want to enjoy the Tampa Bay sunshine. Many of the floor plans in Waterset have oversized lanais, oversized sliding doors, or both! By blending these two spaces, you'll immediately feel like your floor plan has doubled in size! Use a cohesive design palette and arrange furniture so there is a clear path to the outside, both of which will create a natural flow from the indoors to the lanai.
This Sandpiper quick move-in by Homes by WestBay has oversized back sliders, creating cohesion and openness to the outdoors.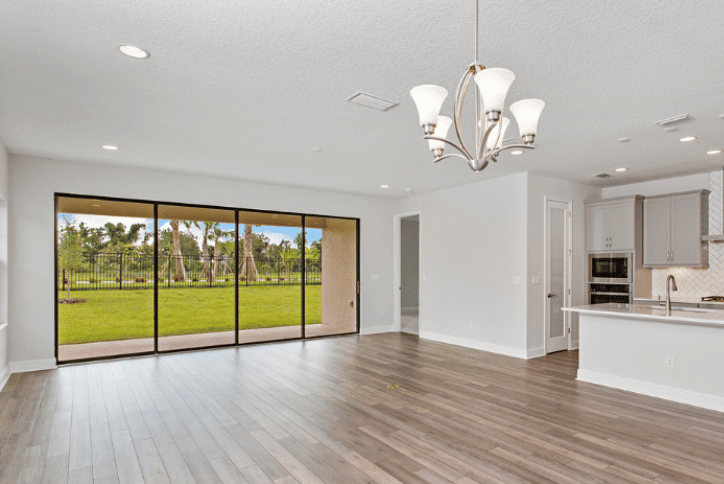 Show Off Your Personality
The best way to make a home feel personal is to, well, personalize it! Lean into your interests and use décor that really shows off you and your style! You can add small touches, or dedicate a whole room to your favorite hobby or sports team!
We love the lap lanes painted on the wall in this fun bedroom in the Rivergate model by David Weekley Homes - perfect for a teen on the swim team! Throughout your home, be sure to add fun or quirky pieces here and there to show off your unique personality!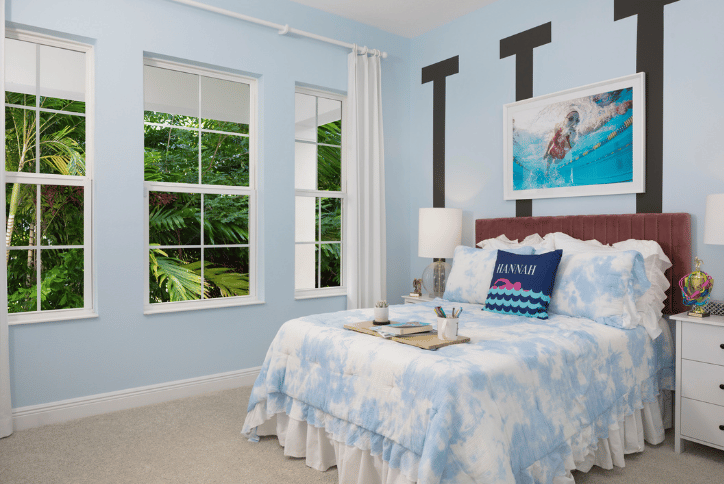 If you're ready to make your move to Waterset now, check out our current quick move-in homes, or explore last year's most popular floor plans for a little home-shopping inspiration!