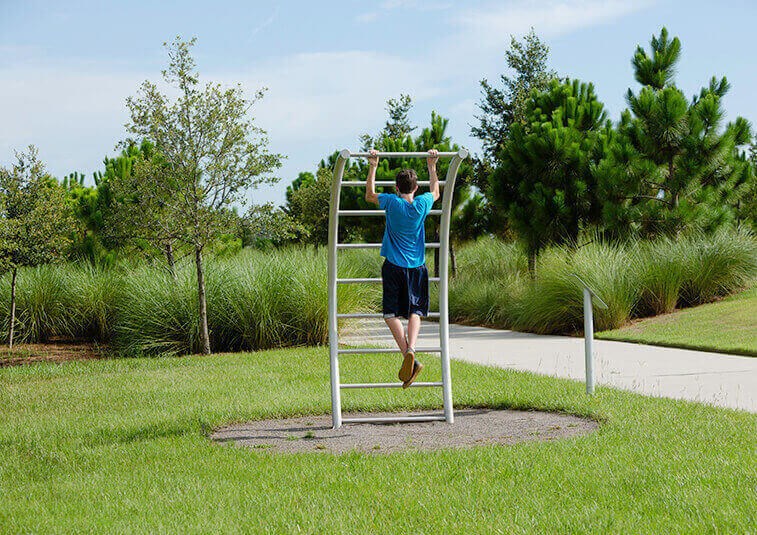 Getting Norwell Fit at Waterset
Have you checked out our trails recently? Waterset now features four new pieces of Norwell equipment – the newest trend in outdoor fitness. The sculptural exercise gear is designed to be both aesthetically pleasing and multifunctional, allowing fitness enthusiasts to perform challenging and unique exercises on each piece.
You can view the full range of exercise demonstrations and videos by downloading the Norwell Fitness app for iPhone, but here are a few to get you started:
The Sit Up: Sit on the seat and hook your feet on the peg. Then, lower and raise your upper body to perform a twist on this classic ab exercise.
The Superman: Lie facing the ground on the seat and raise both arms and legs. Hold for 5 seconds, then rest for 5 seconds.
The Pull Up: Hold the top of the bar with a wide grip with palms facing toward you.
The Shoulder Stretch: Hold on to the top bar and let your body hang.
The Chest Press: Pull your body up on the bars. Raise and lower yourself by the arms in a controlled motion.
The Reverse Row: Grip the bars, and hang your body below them, facing the sky. Pull yourself up toward the bars and down in a controlled motion. 
The Ham Stretch: Place your heel on a peg where your leg becomes parallel with the ground. Lean forward toward your toes to stretch out those hamstrings.
The Quad Stretch: Extend one leg behind your body, hooking the top part of the foot to a peg while maintaining your balance. Lean forward slightly to stretch the quadriceps.More Norwell equipment will be added in later phases of Waterset.
Stay tuned for fitness trail updates!