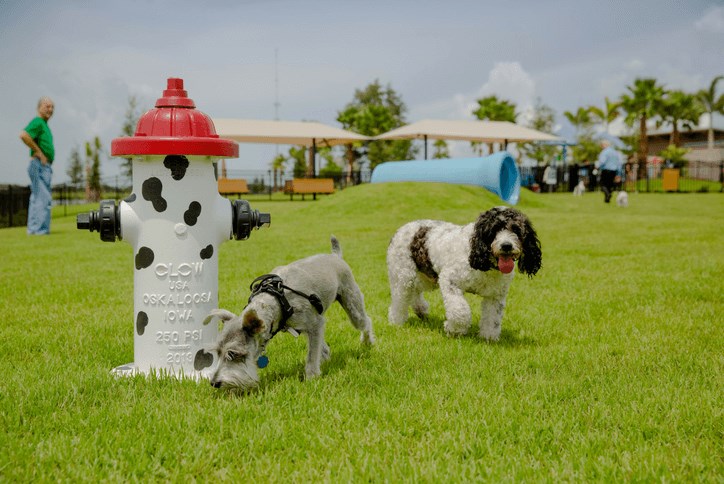 Dogs Love Living Here (And Their Owners Do Too!)
At Waterset, we love our dogs. With multiple connected parks, a 12-mile trail system, and a dedicated dog park, it can be easy to understand why the dogs, and their owners, love it here too.
Originally from Washington D.C., Jon G. moved to Apollo Beach two years ago in search of a new home where he and his Corgi, Sherman, could live the Florida lifestyle they've always yearned for. Prior to looking at Waterset, Jon visited other communities in the area, but he said none offered the options that suited his and Sherman's needs. The homes were either too small or too big – nothing in the middle. That all changed when he found Waterset. Waterset's new home options made it easy for Jon to finally find a home that was just right for him and Sherman. 
In addition to having the perfect home for his needs, Waterset's focus on seamlessly linking the community with nature sold Jon immediately. On any given day, he can experience the Florida wildlife right outside his front door. Jon has even started picking up a few books to help him identify all the wild birds that inhabit the community.
Jon's Corgi, Sherman, loves it here too.  Waterset's Lakeside Dog Park gives Jon and Sherman plenty of play time. The duo also spends their time taking long walks throughout the community's extensive trail system – something they couldn't do where they lived before. Sometimes on longer jaunts, Jon can be seen on his spearmint green beach cruiser with his sidekick right behind in his very own dog carrier. Be sure to be on the lookout for them!
As a faithful dog owner, Jon shared, "Everybody around here really loves their dog, and we all have that in common as pet parents."