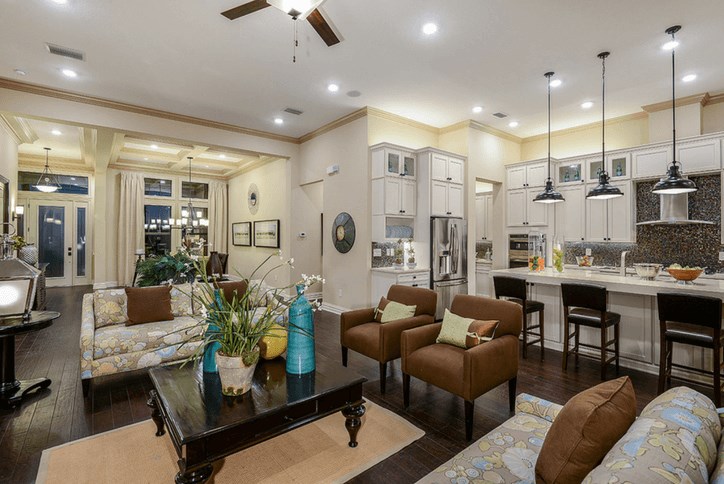 Is an Open Floor Plan Right For You?
An open floor plan is defined as one large room that can function as multiple living spaces, such as a kitchen, dining room, and living room that blend seamlessly together. Waterset has five homebuilders with over 60 floor plans - many of which incorporate open concept living. With this trend becoming more and more popular, we've rounded up the pros of having an open floor plan.
Larger Feel
Whereas a closed-off kitchen can feel small and stuffy, an open concept kitchen feels big and airy.
More Connected Living
With an open floor plan, you can be cooking in the kitchen while watching your children play in the living room. It allows the whole family to be connected, even when in different "rooms."
Natural Light
New home with open floor plans have fewer walls, so natural light travels more easily throughout the entire home.
Entertain With Ease
Since the kitchen is not separated from the main entertaining spaces, you can top off drinks and plates without missing a minute.
Eliminate Underused Space
Open floor plans also eliminate underused spaces, such as pristine formal living and dining rooms that are used only a few times a year.
Make the Kitchen a Focal Point
From backsplashes to cabinets to countertops, kitchens get the deluxe treatment in Waterset. Show off your designer kitchen in an open floor plan.
Ready to tour a model with an open floor plan? Explore our models here. Ready to find your perfect floor plan? Use our Homefinder tool.