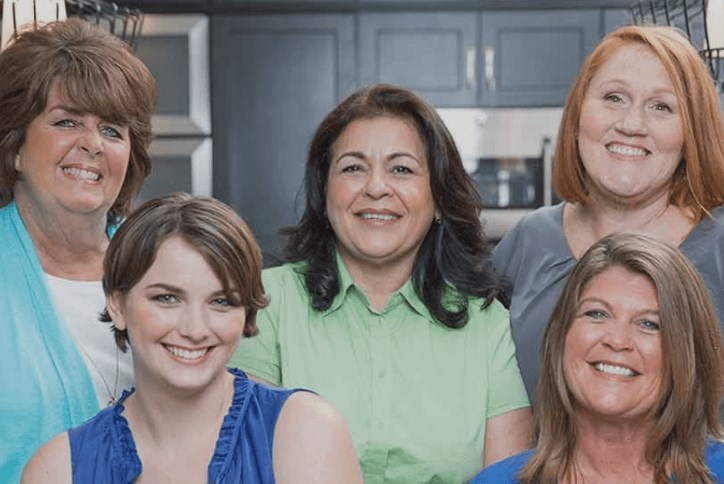 Meet the Waterset Team
Front Row, Left to Right: Susie, Lynda
Back Row, Left to Right: Hope, Patricia, Terri
If you've stopped by The Landing, you've probably seen these ladies' smiling faces. These women are the hard-working Marketing Department for Newland Communities. Next time you stop by The Landing, be sure to say Hello!
Lynda, Marketing Manager
Home Town: South St. Paul, MN
Hobbies: Walking, going to the beach, watching her son's sports games
Interesting Fact: Lynda was a high school hockey cheerleader - which means she wore ice skates and cheered on the ice between periods! It's all part of living in Minnesota!
Favorite Part of Waterset: "I LOVE the people!!!  So many nice families and of course, I love the artwork the kids make for me to display proudly on my office walls and door."
Favorite Cafe Item: The new pizza!


Susie, Marketing Coordinator
Home Town: Jacksonville, FL
Hobbies: Reading, crosswords, and travelling.
Interesting Fact: Susie worked with kids for eight years before starting at Newland, and now she babysits for a number of Waterset residents.
Favorite Part of Waterset: The Lakeside
Favorite Cafe Item: The s'mores cookies (and coffee)
Hope, Community Specialist
Home Town: Boston, MA
Hobbies: Hope loves watching movies and shopping.
Interesting Fact: Hope lived in Waterset's sister community, FishHawk Ranch, for fifteen years before moving to Waterset.
Favorite Part of Waterset: The Landing
Favorite Cafe Item: The margarita flatbread with grilled chicken
Terri, Community Specialist
Home Town: Treasure Island, FL
Hobbies: Terri is a self-described "laundry aficionado" who also enjoys boating, reading, and spending time with family.
Interesting Fact: Terri's favorite travel destinations are Alaska and North Carolina where she enjoys visiting her daughters. 
Favorite Part of Waterset: The feeling of community
Favorite Cafe Item: Blueberry muffins
Patricia, Community Specialist
Home Town: El Paso, TX
Hobbies: Reading and doing puzzles.
Interesting Fact: Patricia lived overseas for 18 years straight.
Favorite Part of Waterset: The residents
Favorite Cafe Item: The Landing Salad
Roxanne, Community Specialist 
(Not Pictured)
Home Town: Bangor, ME
Hobbies: Biking, cooking, and traveling
Interesting Fact: Roxanne calls herself a "health nut" and she runs a business of selling nutritional products.
Favorite Part of Waterset: All of the open spaces and the trails
Favorite Cafe Item: Strawberry smoothie