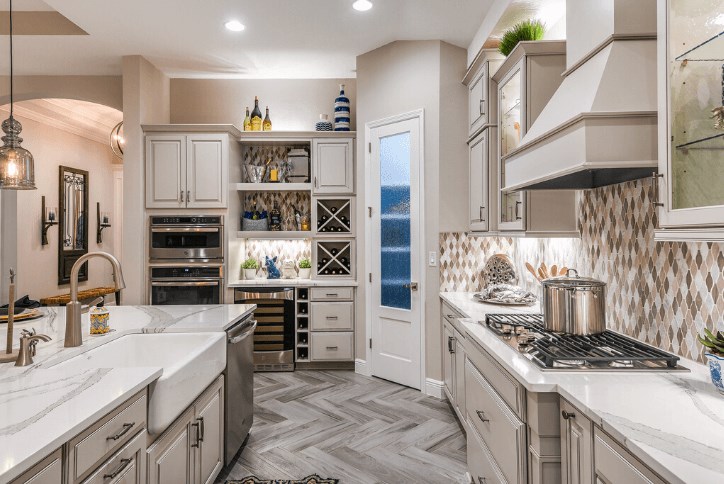 7 Tips For Touring a Model Home
Shopping for a new home is exciting - but we know it can also be overwhelming. There are so many options and so much to do (which is why we created a step-by-step new home buying guide for you). One of the first, and most fun, steps is to tour model homes, so you can envision what your life will be like in your new home. To make the most out of your tour, make sure to read these 9 tips. 
Make a List of Wants and Needs
When touring professionally decorated and designed models, it can be easy to get distracted by all the bells and whistles. Before you walk through the door, make a list of what you absolutely need in a new home. This will make it easier to find the home that suits your needs, instead of your wants. 
Start With a List of Questions
As you explore different homes in different communities, it's likely that you'll come up with a lot of questions. Write them all down and take them with you to the models and get your answers. 
Talk to a Realtor
A good realtor will be able to guide you through the new home buying process, help you narrow down your search, and communicate with the builder so you don't have to. In short, they'll make your home buying journey a little bit easier. If you're working with a realtor, make sure they accompany you to the models! 
Grab a Sales Counselor
Your model tour is an opportunity to meet your sales counselor and learn as much as you can about the builder and the homes. They'll be able to tell you what's included in the list of standard features, what options you have to personalize each plan, and so much more. 
Inspect the Craftsmanship
Any builder can make a home look nice with the right color paint and some perfectly positioned furniture, so take this opportunity to look closer. Is the woodwork and molding seamless? Is the floor laid perfectly straight? Do the cabinets look like they'd last through years of dinner parties? Look past the cosmetics to see a builder's true attention to detail. 
Take Your Time
If you tour too many homes at once, they'll all start to blur together. Limit yourself to a few models at a time. We suggest stopping by The Landing Café halfway through your search for a coffee break. Talk about what you saw and any new questions that popped up, and restart your search with a renewed focus. 
Snap Some Pictures
Having photographic reminders of each home will help you when you look back and try to narrow down what you liked and disliked. You can also look at our 3D tours gallery to virtually "walk through" each model after your tour. 
Tour the Neighborhood
A home isn't just a house. You'll also want to consider the community - the location, amenities, and residents. When you tour a model home, make sure you also take the time to learn about the community as a whole. 
Have Fun!
You could be walking through your future home! This is a fun and exciting time - don't forget to enjoy the process!





This blog was originally published in November 2018 and has been updated as of June 2020.