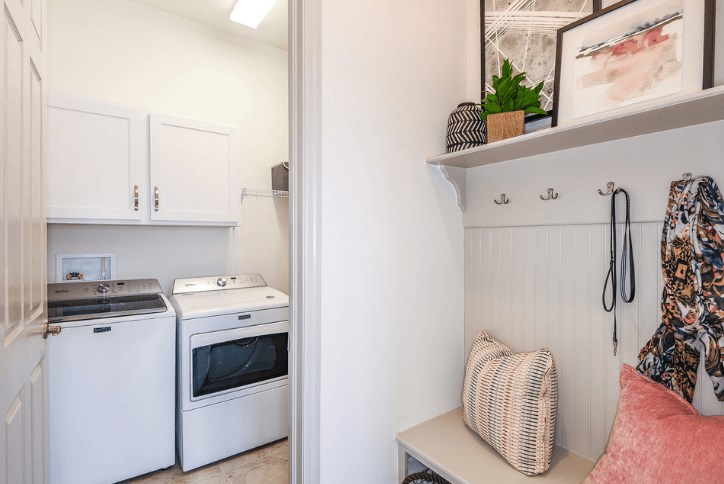 What is a Stop & Drop and Why Do You Need One in Your New Home?
A mudroom is a valuable addition to your home for many reasons. It serves as a storage space and a command center. It also provides a buffer between outside and indoors. However, the traditional mudroom is becoming less popular as space-saving stop and drops become more and more widespread. A stop and drop is a small area near an entryway of the home that serves as a mudroom without taking up as much space. What are the benefits of a stop and drop and how can you create one in your home?
First, you will want to determine where your stop and drop will be. Some floor plans at Waterset, such as the Washington townhome by Park Square Homes, include the option for a built-in stop and drop by the front door. Others, such as the Serefina by David Weekley Homes, offer the stop and drop by the garage and laundry room.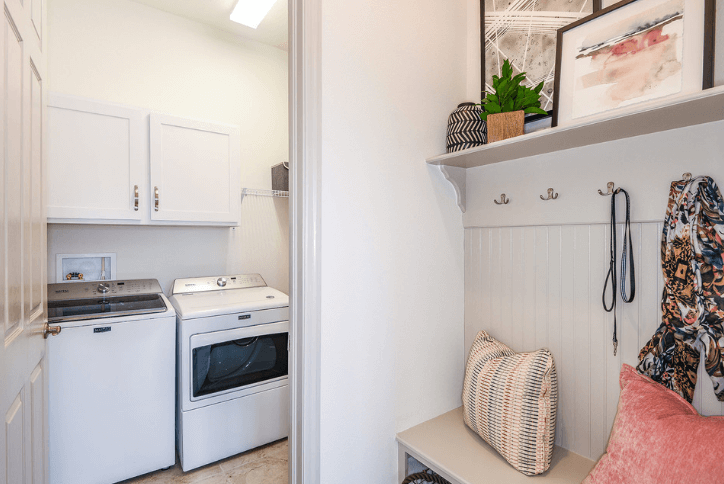 The stop and drop in the David Weekley Homes Serefina model is conveniently located near the laundry room. 
No matter where you build your stop and drop, it will serve many purposes. The first is providing a transition space between outside and indoors. When you build your dream home in Waterset, the last thing you want to do is track mud or dirt through it! A stop and drop is a place to store umbrellas, rain coats, and shoes. Cubbies or baskets make a great home for shoes, and hooks provide a place to hang your coat. A bench, as seen in the Serefina above, is a great addition as well for unlacing shoes. 
The next reason you'll want a stop and drop is for easy organization and storage. Having a stop and drop gives you a designated place for your keys and handbag or briefcase. You can also hang up kids' backpacks or Fido's leash. Having this dedicated storage space means no more mornings searching frantically for your keys!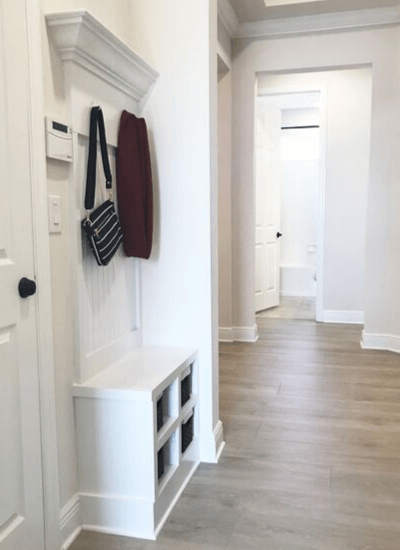 A stop and drop can be as big or small as you like while still being functional, like this one in the Beazer Bayview model. Some builders call them drop zones or valets. 
Best of all, stop and drops are easy to create, and because they are smaller than traditional mud rooms, you can fit one into almost any home! Browse our floor plans now to find the perfect space for you.