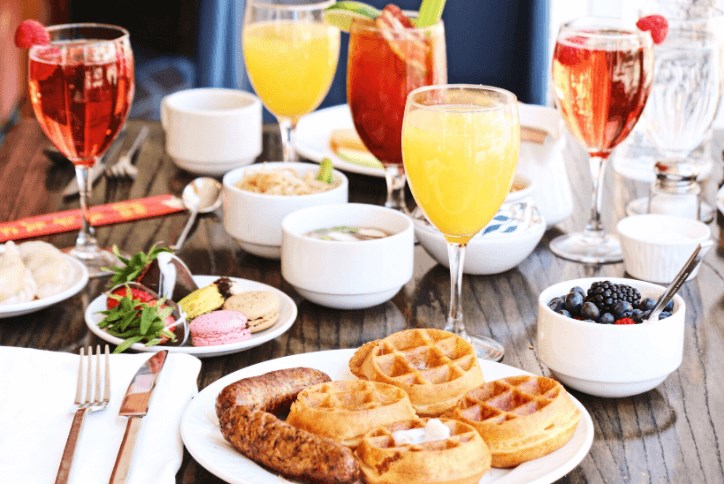 Tampa's Top 10 Hot Spots for Brunch
Tampa is a top city for foodies, and there is perhaps no meal that Tampa Bay does as well as it does brunch. Brunch addicts, take notes. This might just be your new bucket list. 
Datz
Datz is a long-time Tampa Bay staple that recently expanded to St. Pete and Winthrop Town Centre in Riverview. Their brunch menu ranges from delicious to decadent. They also offer coffee, tea, cocktails, and mocktails. The flagship location is located near Bayshore, but the Riverview location is just 8 miles away. 
Tip: Get on the waitlist from home by using their text ahead service. 
Another Broken Egg
We have just four words for you. Cinnamon Roll French Toast. If that's not enough to tempt you, what about a chocolate-stuffed Belgian waffle or lemon blueberry goat cheese pancakes? If savory is more your speed, Another Broken Egg has you covered there as well. Find them in South Tampa, off Dale Mabry Avenue, or in Clearwater.
American Social
When a restaurant describes brunch as "as close to perfect as a meal can get," you know their brunch has to be good. Combine great ambiance, a nicely-varied menu, and a beautiful view of the water, and you've got everything you need for a great brunch spot. American Social is located in downtown Tampa, on Harbor Island. 
Armature Works
If you consider variety the spice of life, you'll definitely consider Armature Works a top brunch destination. Heights Public Market features over a dozen food and beverage vendors, and their formal restaurant, Steelbach, also offers a great brunch service. Whatever you choose, chances are, it'll be delectable. Armature Works is located at the north end of the Tampa Riverwalk. 
Boca Brandon
If you're looking for a delicious, farm-to-table brunch with a variety of options, look no farther than Boca. Their high-quality, locally-sourced options include breakfast favorites like eggs and pancakes, lunch options like burgers and grilled cheese, and so much in between. Plus, it's in nearby Brandon, in the popular Winthrop Town Centre, making it one of the closest-to-Waterset options on our list. 
Cask Social Kitchen
Cask Social Kitchen separates their brunch menu into "Breakfasty" and "Lunchy" options, and their sense of humor and quirk (plus their self-professed love of bacon) make their way into the selections. Why not try a Mimosa Salad or a Morning Moo? Find them near SoHo. 
Cali
If it's a Ciccio Restaurant Group restaurant, you know it's good. From the same people who brought Taco Dirty, Green Lemon, Fresh Kitchen, and more to Tampa, Cali is a laid-back, California-inspired space that boasts a yummy and healthy brunch menu. We recommend the egg bowls! Cali has multiple locations, but the Winthrop Town Centre location is closest to Waterset. 
The Cheesecake Factory
This popular restaurant is known for its extensive list of menu items, and brunch is no exception. Choose from their eggs and omelettes, served all-day, every day, or their Saturday and Sunday brunch menu. Find them in the Westfield Brandon shopping mall. 
First Watch 
First Watch calls itself a "daytime cafe," and although they don't have a dedicated brunch menu, you'll find that their broad array of menu options is perfect for breakfast, brunch, or lunch. While you're there, splurge on the Million Dollar Bacon - trust us, you won't be disappointed. There are a few locations throughout Tampa, with their closest being right around the corner from Waterset at Big Bend Road and US-301. 
Oxford Exchange
Housed in a building dating back from the 1890s, and practically synonymous with downtown Tampa, you'd be surprised that Oxford Exchange only dates back to 2012. In those 8 years, this unique gathering place has garnered local fame for its restaurant, shop, bookstore, and most recently, Champagne Bar. The OE brunch menu includes a variety of breakfast and lunch favorites with an unexpected twist. 
The Landing Café
You don't have to go far for a top-notch brunch and bottomless mimosas. The Landing Café is a great place to meet and mingle with your neighbors, indulge in new breakfast menu items, and sip on bottomless mimosas on Saturday mornings. Yum! 
Although these brunches are tops, the best brunch is the one you have in the comfort of your dream home. Explore our Homefinder to find the home that's a perfect fit for you and your family.