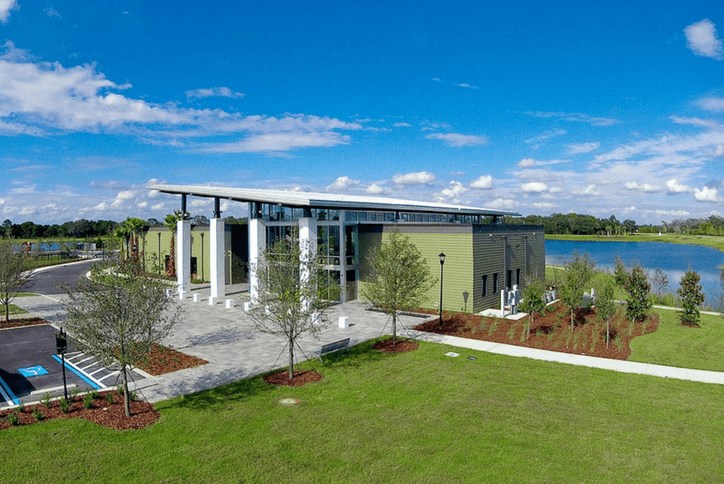 The Landing Earns a Leadership in Energy & Environmental Design
The Landing, a community gathering place for residents of Waterset, recently earned a Leadership in Energy & Environmental Design (LEED) certification from the U.S. Green Building Council for energy efficiency and sustainability. Waterset is owned in a joint venture partnership between NORTH AMERICA SEKISUI HOUSE, LLC (NASH), the U.S. business unit and full subsidiary of SEKISUI HOUSE, LTD., Japan's largest homebuilder and leading diversified developer, and Newland Real Estate Group, LLC, whose development business, Newland Communities, is the master developer of the community. Waterset is one of more than 30 communities the NASH-Newland partnership owns together in 11 states across the United States.

"As a company, we have an unwavering commitment to sustainability," said Alex McLeod, Senior Vice President and General Manager for Newland's Tampa Division. "The entire site at The Landing at Waterset, from architecture, location, and design was created with both the environment and our residents in mind." 

Site features at The Landing include a white roof to aid in building cooling and a building footprint that also maximizes open space. Approximately 80 percent of building waste from the project was diverted from landfills and repurposed, including reclaimed wood that was turned into onsite furniture pieces. Additionally, more than a quarter of new construction materials contained recycled content and nearly half of all materials used were manufactured or extracted regionally. Indoors, there are dedicated recycling locations, low-flow faucets and lavatories that minimize additional water use and low-emitting materials were used throughout. 

The Landing is the heart of the Waterset community, where neighbors meet for coffee or lunch in the on-site café, or find answers to questions at the Information Center. An adjacent fitness center features state-of-the-art cardio equipment and plenty of room to lift weights or stretch. The Landing is also home to the Community Pool, which offers lap lanes and a wading pool with sprinklers. 

The LEED rating system, developed by the USGBC, is based on sustainability, energy efficiency, environmental quality, materials used and overall design. LEED is the leading platform for buildings, homes and communities that are built around the core belief of environmental sustainability and efficiency. 

For additional information about LEED certifications, go to www.usgbc.org.