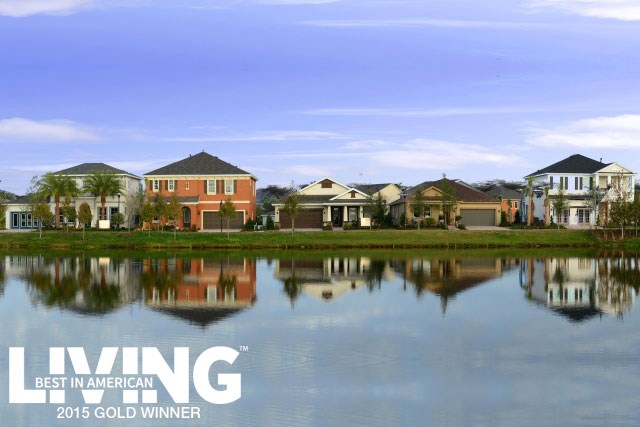 Waterset Honored with Best in American Living National Design Award
Waterset by Newland Communities has been recognized with a Gold award in the 2015 Best in American Living Awards (BALA) by the National Association of Home Builders (NAHB). Waterset was honored in the Best Single-Family Community, 100 units and over. 

Waterset is owned in a joint venture partnership between NORTH AMERICA SEKISUI HOUSE, LLC (NASH), the U.S. business unit and full subsidiary of SEKISUI HOUSE, LTD., Japan's largest homebuilder and leading diversified developer, and Newland Real Estate Group, LLC, whose development business, Newland Communities, is the master developer of the community. Waterset is one of more than 30 communities the NASH-Newland partnership owns together in 11 states across the United States.

Waterset was recognized for its thoughtful design, which allows residents to interact with nature and enjoy contemporary living. The community, which spans more than 1,300 acres, features walkable, interconnecting neighborhoods; miles of trails, ponds and parks; and a mile-long Greenway Trail System. The community was also recognized for its emphasis on sustainable growth and green planning principles to preserve water and protect and enhance the existing environmental landscape.

"We're extremely honored to be recognized as one of the best innovative and creative communities in the U.S.," said Alex McLeod, senior vice president and general manager for Newland Communities' Tampa Division. "The outstanding amenities we offer are among the many reasons homebuyers want to live in Waterset. 

This is the second Best in American Living Award Newland Communities has received in the Tampa Bay area. FishHawk Ranch was honored as a Best Community in 2007. 

The project team behind Waterset includes Looney Ricks Kiss and Heidt Design (architect), CRS Building Corp (builder), Looney Ricks Kiss (interior design), and EDSA (land planner).

"The Best in American Living Awards are the most prestigious awards of their kind, setting the benchmark for innovations in residential home design," said 2015 BALA Chairman Stephen C. Moore, senior partner – marketing at BSB Design Inc. in Des Moines, Iowa. "We are proud to have a long history of honoring those who set the bar high by encouraging creativity, originality and imagination in our industry."

The Best in American Living Awards program recognizes outstanding achievement by builders and design professionals in all sectors of the residential housing industry including single-family production, custom, rental, affordable, interiors, remodeling, community and international, based on the principle that good design is not, and should not be, limited to high-priced and/or custom homes.  Even the simplest, most affordable homes can receive an award if they showcase good design.  

Award winners were announced during the annual NAHB International Builders' Show in Las Vegas.