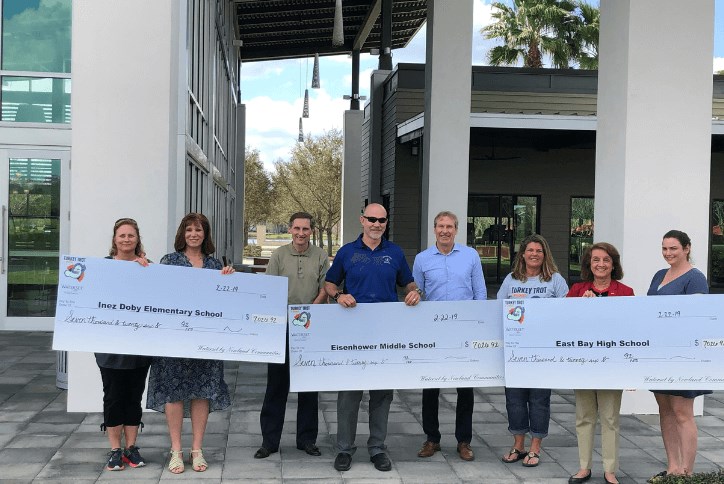 Waterset Turkey Trot Raises Nearly $20,000 for Area Schools, Local Running Club
Waterset Turkey Trot Raises Nearly $20,000 for Area Schools, Local Running Club
 Teachers from three Waterset neighborhood schools and the FishHawk Road Runners Running Club received the proceeds from the Second Annual Waterset Thanksgiving Day Turkey Trot. Each school received a check for $6,329 and the running club accepted a $1,000 donation for its assistance in running the event. Pictured left to right are: Johan VonAncken, Eisenhower Middle School principal, Lynda McMorrow, marketing manager for Waterset; Community mascot Manny the Manatee; Catherine Ferguson, Doby Elementary School principal; Keven Loveland, race director; Christina Conti, FishHawk Road Runners; Maria Gsell, East Bay High School principal.
Apollo Beach, FL- The Second Annual Turkey Trot at Waterset by Newland Communities raised nearly $20,000 for three SouthShore public schools and a local running club. Waterset representatives handed out the donations at a recent lunch at The Landing, the community's café.
Lynda McMorrow, marketing manager at Waterset presented checks for $6,329 each to  Maria Gsell, principal of East Bay High School, Johan VonAncken, principal of Eisenhower Middle School and Cathy Ferguson, principal of Doby Elementary School. Race director Keven Loveland and Christina Conti, both of the FishHawk Road Runners, also accepted a $1,000 donation for the running club's assistance with the event which will go towards the club's annual scholarship fund.
 "Waterset and Newland Communities are dedicated to supporting our schools," said Lynda McMorrow, marketing manager for Waterset. "The Turkey Trot is just another example of that commitment and it's a way for our entire community to come together to make an impact that will benefit students directly."
 Each school many use the funds as they see fit. For instance, Eisenhower Middle School will use their donation to install security cameras on campus and further beautify the campus.
In addition to funds raised through the Turkey Trot, Waterset donates several iPads each quarter to deserving students at Eisenhower Middle and East Bay High School students, and sponsors other events throughout the year.