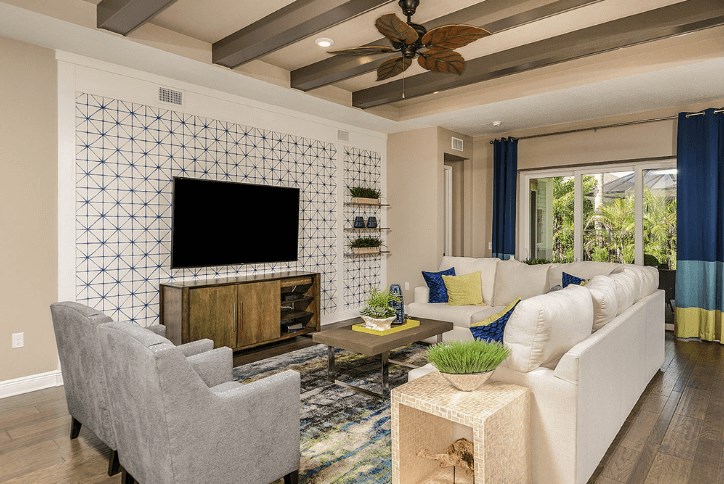 Picking the Perfect Floor Plan
Shopping for a new home can be exciting, but all the choices can be overwhelming.  In Waterset, we want to make it easy to choose the right floor plan. You can search, view and compare floor plans with our homefinder tool. Before you start your floor plan search, there are several things to consider when choosing the right floor plan.
The Home Site
When you are looking at buying new in Waterset, most builders can build only on those pieces of land in which they have purchased. Often, only certain floor plans fit on each individual home site. If the floor plan is more important to you than the home site, make sure to pick your plan first. Your builder can provide guidance as to whether the home plan will fit on the home site.   
Open Floor Plans
One of the number one things most people look for in a new home is an open floor plan.  Open floor plans offer a spacious feel that allow one space to flow into another without a wall separating or dividing the space.  This allows multiple furniture placement options and spaces are often defined by the furniture placement. Open floor plans often feel more spacious and can offer multiple entertainment options as well.
Entertainment Space
Speaking of entertainment – you will want to consider your lifestyle when selecting the right floor plan.  If you regularly host gatherings, you will want a space to do so. Most gatherings start in the kitchen, the heart of the home.  A kitchen with a large island can allow a place for everyone to gather.
Outdoor Space
Most people don't really consider the outdoors when selecting their floor plan.  However, given the beautiful Florida weather almost year-round, you will want to give some thought to the outdoor space in your new home.  Covered patios and living spaces that flow into the outdoors are very popular and can provide additional living space. Whether you are looking for a large yard for a pool or playground or a smaller low-maintenance yard, you can still choose a floor plan that fits your need for an outdoor lifestyle.
Sight Lines
Sight lines in a home are the things you see when you are standing in a particular area of a home from any given point.  An example of a great sight line would entail standing at the front door looking through the home to a large window at the back of the home - without any obstruction of your view.   When walking through a prospective floor plan, you will want to stand in different areas and simply look at the view corridor from that particular point to observe what you see.
Traffic Patterns
A good floor plan will take into account the traffic flow of the home.  Interior traffic patterns are considered the routes in which your family take to navigate the home.  Functionality and maneuverability often dictate how easily you can move through your home. Floor plans that are designed with traffic patterns in mind just feel right.  Most homebuyers cannot put into words what they feel about a particular home plan, but we can. It is that efficiency, convenience and safety were all considered as the home was designed.
Now that you know of the things to consider when choosing the right floor plan, put those things into action.  We have made it easy for you to compare new home floor plans with our convenient homefinder tool.