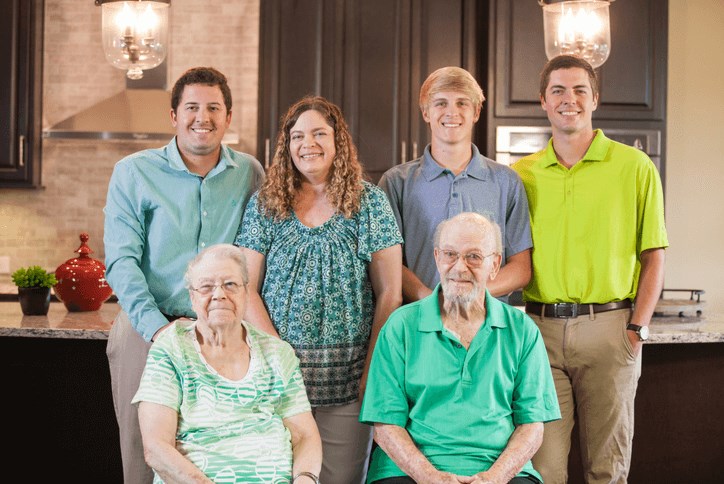 "When I Think Waterset, I Think Happy"
Multi-generational living, as perfectly captured in the classic TV hit The Waltons, is on the rise again. According to a Forbes article, almost one in five households were labeled multi-generational in 2014. A multi-generational household is categorized as either two adult generations living in the same home (such as parents with adult children), or grandparents living with grandchildren.
The Donnell family is a clear example of why - and how - multi-generational living works so well. Mr. and Mrs. Donnell live with their three college-age sons, as well as Mrs. Donnell's parents. Waterset had the floor plan to make their living easier, and the activities and amenities to keep everyone having fun.
USF student Nick loves living in Apollo Beach. "To me, the whole Apollo Beach area is really growing. When it comes to millennials who are starting a new family, to me, Waterset is perfect. Apollo Beach is a very up-and-coming area and to me it's absolutely perfect for someone like myself who is trying to look for a new home."
For FAU grad Fred, the amenities are fantastic. " I tend to go to the fitness center quite often. There's free weights in there as well as the bench to do bench press, deadlifts, squats, which a lot of places around here do not offer."
Mrs. Donnell loves the concept of a Newland community. "We had lived in a Newland community since 2000, so we really just wanted to make sure we stayed within a Newland community, but we wanted to live somewhere a little bit closer to healthcare for my parents. We love the way that they plan and design their communities. The amenities that they offer - I just know i'm going to have a great community and a great return on the investment."
Finally, everyone agrees that they all love living together.
Fred says, "Waterset feels like home because it was able to offer us a house that not only we could live in but my parents as well as my grandparents."
Mrs. Donnell agrees. "We love Waterset. I am so blessed and fortunate to be able to have all of my family and my parents - all of us living together in one loving household."
Finally, Mrs. Donnell's mom, Peg, is happy to live with her daughter and grandchildren. " I love it because I'm with my family here. I'm very happy and contented living here. When I think of my home here in Waterset, I think of happy.  It's a beautiful place and I feel very good with my daughter and her family taking care of my husband and I."