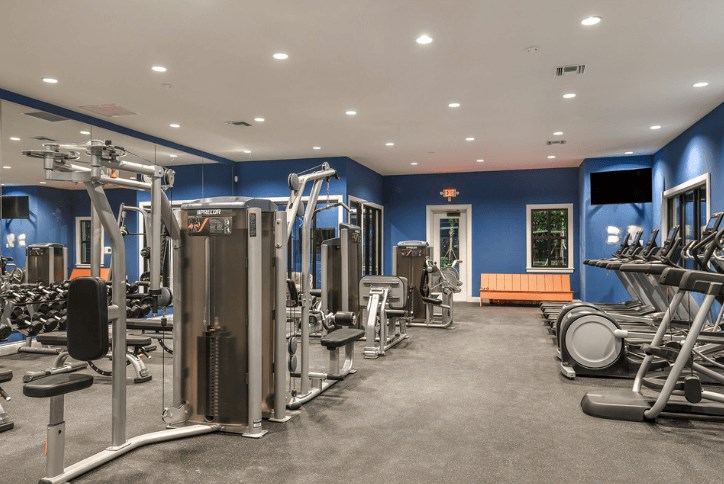 Get A Move On at These Nearby Gyms
Waterset is a fun-loving community where neighbors love to get outdoors and get active. The SouthShore area features several gyms where Waterset residents can work out.
Waterset
Waterset residents also have the option to work out right here at home! Waterset offers two on-site fitness centers, at The Landing and The Waterset Club. With a variety of workout equipment and a location that can't be beat, you may decide you don't need to go anywhere else!   
CrossFit Apogee
This CrossFit gym is located right across the street from Waterset!  CrossFit Apogee is a Reebok Recognized 5,000 sq/ft. group training facility that provides supervised kidcare. They offer beginner, intermediate, and advanced group classes as well as personal training.
The Spurlino Family YMCA
Located less than 10 minutes from Waterset, the YMCA is slated to open in December 2018, with a grand opening at the beginning of 2019. The YMCA is expected to offer a variety of amenities and activities for children and adults which includes 32,500 square feet of indoor space plus an outdoor aquatic center.
Orangetheory Fitness
A popular new exercise program, Orangetheory is based on the science of EPOC, excess post-exercise oxygen consumption, which challenges you at a particular intensity during a one-hour workout so your body continues to burn calories after the workout is over. Orangetheory is located just two miles from Waterset on Big Bend Road.
Anytime Fitness
Anytime Fitness is a great choice for those looking for flexible hours in their gym schedule - the fitness center is open 24/7! Anytime Fitness also offers fitness consultations and personal training. There are two locations within 3 miles of Waterset.
Crunch Fitness
Expected to open in January, Crunch Fitness is known for its #NOJudgments philosophy. When it opens, Crunch will offer group fitness, small group training, personal training, and more. Crunch is now accepting membership reservations.
Burn Bootcamp
A membership at Burn Bootcamp gives you unlimited access to 45-minute long, high intensity workouts, and childcare if you need it. Burn Bootcamp applauds their strong sense of community among members, offering "a community like no other." Burn is located on US Highway 41, just south of Paseo Al Mar.
Shapes Fitness for Women
Shapes is a ladies-only gym designed around empowering women. Shapes offers group fitness, small group training, and personal training. Shapes is located on Big Bend Road, just east of US Highway 301.