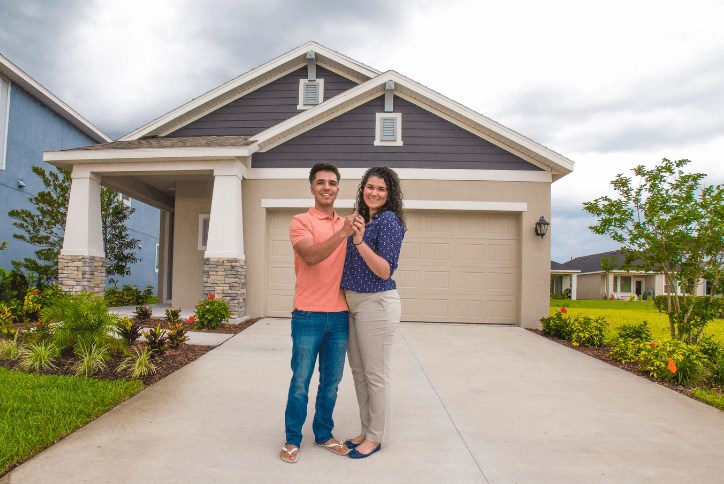 From Renter to Homeowner: First-Time Homebuyers Invest in Their Future
Buying a new home is an emotional journey. First, you have to decide: to rent or to buy? You have to weigh the financial benefits of owning a home - and the benefits that have nothing to do with finances. Once you've decided to buy a new home, there are financial considerations to take into account. Then comes the new-home shopping: picking a community, choosing a homebuilder, and finding the perfect house. It can be a lot. That's what first-time homebuyers Victoria and Alex quickly realized as they began shopping for their new home. But closing on your dream home? That's a feeling you'll never forget. 
"Closing on our new home feels amazing," said Victoria. "It's just the culmination of so much research and so much looking around and checking things out and figuring out how things are going to work. I feel very relieved and it's all very exciting."
Victoria and Alex had moved to Tampa not too long ago, after bouncing around different states as renters. As soon as they settled into the Tampa Bay area, though, they knew it was time to look into buying a house. Alex explained, "A house gives you equity. It's an investment. I see [buying a home] as an investment, I see [renting] as an expense." 
Victoria agreed. "With buying a home, there's a focus on the future. Up until this point, owning a home hadn't matched with us because we didn't know where we were going to settle. Once we did know where we wanted to be, it was easy to decide that now we want a home of our own." 
They admit that the home-buying process wasn't an easy one, especially as first-time homebuyers. As Victoria says, "The process of looking for a new home… it's been really time-intensive, stressful at times, it has its ups and downs, especially for first-time homebuyers because we're figuring things out. We're learning as we go." 
Of course, it's not all bad. Victoria stated that "overall, there's a sense of adventure and a new journey that we're embarking on. It makes you focus on the future. That's something really exciting."
But now that it's all said and done? It's all worth it. Alex said, "Having the keys to my new home gives me a sense of responsibility and at the same time, a sense of accomplishment. That's a great feeling. Closing on our new home feels amazing. It's just a feeling of satisfaction, of accomplishment. It's something we've dreamed of for so long. It's just a wonderful experience." 
Victoria agreed, "What I'm feeling right now, as I look at my new first house is - it's just so beautiful. You see so much potential. You fill it with your dreams. I'm just so excited."
Of course, a home is so much more than just a house. It's the community your home is in, your neighbors, and your location. Victoria and Alex found all that and more at Waterset.
Alex explained, "Having this home means a lot for our future. If we have kids, we're in a great neighborhood. That was really important for us. A neighborhood where it's very walkable, lots of trails, fantastic amenities, great neighbors." "We love the trails," added Victoria. "We walk around a lot. In the evenings, it's a nice way to calm down after dinner. We enjoy the beautiful scenery. We're excited to see what more gets developed here at Waterset. We know it's going to keep on growing and we're excited for the future of the neighborhood."
In the end, Alex sums up buying a new home perfectly. "It's more than I could have ever imagined."
To truly get the feeling of what a day in the life of living at Waterset is like, come visit us and try out our Resident for A Day program, or contact us for more information about our master-planned community.