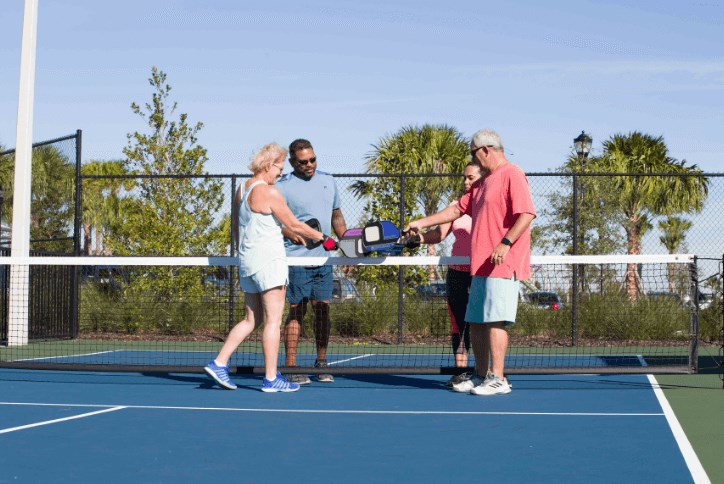 4 Reasons Pickleball Will Be Your New Favorite Sport
Pickleball isn't a new sport - it's been around since the '60s - yet lately it seems like it's everywhere - including here at Waterset! Why is this sport so popular? Here are 4 reasons you'll want to grab a racket and head to the Waterset pickleball courts.
It's Easy to Learn
Pickleball combines badminton, tennis, and table tennis, and the rules are very similar to those of ping pong.The techniques are much simpler than those of tennis, one notable difference being an underhand serve instead of overhand. Also, since the court is much smaller, it's easier to get the ball over the net.
It's Social
Like tennis, you can play singles or doubles pickleball, with doubles being the more popular option. Because pickleball is played on a much smaller court than tennis, it feels more social when playing - you can talk to your partner or opponent without shouting and the ease of the game allows you to carry on a normal conversation.
It's Affordable
Unlike tennis, pickleball rackets are relatively inexpensive, starting around $20 or $30, and the game uses a simple wiffle ball instead of a tennis ball.
It's a Lifetime Sport
The smaller court size also allows pickleball to be a lifetime sport, since it's not as strenuous as tennis or other court games, while still being great exercise. Waterset grandparents can play against their grandchildren and have a great time doing it! The sport, which knows no age, is also popular among millenials. (You know what else is popular among millenials? Waterset! Here are a couple of reasons why).

Whether you're a beginner looking for a fun, new way to exercise or a seasoned player looking for a competitive thrill, pickleball offers something for everyone. Check out the Waterset pickleball courts today!