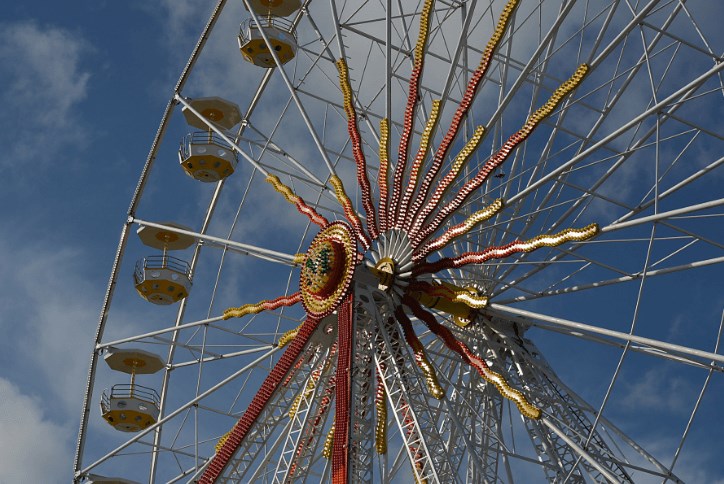 February Fun Near Waterset
Tampa is home to more festivals than any other city in the U.S. and February is full of festival fun! Here are just a few of the top festivals to take part in this month - and next!
Florida State Fair, February 7-18
The Florida State Fair is a Tampa tradition you won't want to miss! As the first State Fair in the United States, the Florida State Fair is home to the largest midway in the country with dozens of rides for everyone in the family. You'll also find some of the tastiest sweet treats and carnival creations. This year's stand outs include a Black Cherry Burger, Buffaloaded Mac and Cheese Quesadilla and a Red Beans and Rice Funnel Cake.
There's family-friendly entertainment as well, throughout the Fair's 12 days, including Circus Hollywood (a full circus performance), Demolition Derby, the Zaji Amazing Acrobats of China and so much more. The Florida State Fair also celebrates our state's agricultural heritage, so don't miss out on visit to the livestock barns. You can milk a cow, feed a goat and watch students from around the state show off the animals they've been raising and caring for during the past year. Tickets are available online and at the fairgrounds. Parking is free. Learn more at www.floridastatefair.com.
Bay Area Renaissance Festival, February 16 - March 31
On weekends during February and March, you can transport yourself back to the 16th Century at the Bay Area Renaissance Festival! The "Ren Fest" features over 100 artisans selling handcrafted wares, food vendors, and live entertainment - including jousting! Each weekend offers a different theme, including a Highland Fling featuring Highland Games, Festival Friday with a masked ball, and Pirates and Pets. Throughout the venue, festival-goers can mingle with hundreds of costumed characters. Of course, dressing in your own Renaissance costume is not discouraged! There is an additional charge for some events. Check out www.bayarearenfest.com for more information.
Florida Strawberry Festival, February 28 - March 10
The Florida Strawberry Festival celebrates the annual statewide strawberry harvest - but the event is about so much more than strawberries! Held in Hillsborough County, the festival is home to rides and attractions, eating contests, and so much more. The Strawberry Festival attracts outstanding headline entertainers. This year's line-up includes Martina McBride, Steven Tyler, Styx, Pat Boone, Willie Nelson and the Oak Ridge Boys, to name a few. A separate ticket is required for headline concerts.
There are also plenty of free concerts each day featuring local artists and up-and-coming bands. The midway offers dozens of rides, merchants and food vendors. The adventurous can take part in eating contests with everything from Amish donuts to strawberry spaghetti to corndogs. Don't have the stomach for the sport of eating? Watch from the sidelines or just head out to the barn to take in some of the livestock exhibits. Get all the details at www.flstrawberryfestival.com. 
Manatee Festival of the Arts & Music, March 9-10
You won't have to travel far for the 27th Annual Apollo Beach Manatee Festival of the Arts and Music. Held at E.G. Simmons Park in Ruskin, the event is a showcase of fine arts and crafts featuring artisans from all over the country. Check out the many unique art mediums including glass, metal, wood and photography. Most vendors offer their work for sale. There's live music throughout the day, as well as a kids creativity area, where children can make their own works of art to bring home. The Festival runs from 10 a.m. to 5 p.m. each day.  Admission is $5 for adults, kids 12 and under are free, and there's an additional $2 fee to enter the park. See all the info at www.southshorechamberofcommerce.org.
Busch Gardens Food & Wine Festival, March 16 - April 28
It's a celebration of all things food and wine at Busch Gardens. Head to the park to enjoy delicious new signature dishes along with a large selection of wines, cocktails and craft beers. Held on Saturdays and Sundays, the Food and Wine festival also features musical acts who perform on Gwazi Field. The festival and concerts are included in the price of admission, but the food and wine tastings are offered for an additional fee. There are also blackout dates during the Food and Wine festival for Fun Card and Annual Pass holders. Be sure to visit www.buschgardens.com for all the details.