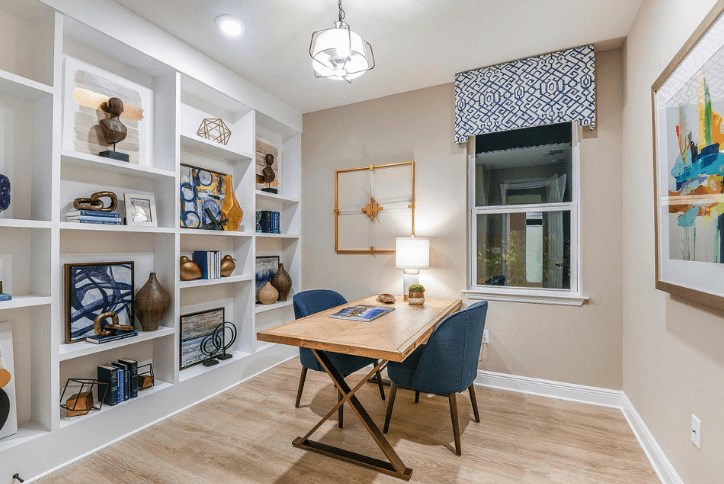 HGTV Star Explains How to Maximize Your Home's Value
If you're familiar with HGTV, you're probably familiar with Jasmine Roth. She stars in her own show, Hidden Potential, tackled the Brady Bunch house in A Very Brady Renovation, and took home the title in Rock the Block. She also runs Built Custom Homes, a California-based design-build firm. Jasmine sat down with House Beautiful to explain how she maximizes a home's value, and we've rounded up her top tips right here. 
Give Every Room a Specific Function
Whether you're shopping for a new home, wanting to overhaul your current home, or trying to stage your home to sell, giving each room a specific function helps you avoid "dead space." 
Keep in mind that you're not just specifying functions for the bedrooms and bathrooms - many floor plans nowadays offer "flex spaces" that can be used for any number of hobbies or functions, and open concept "great rooms" eliminate a formal dining room if that's not a space you need.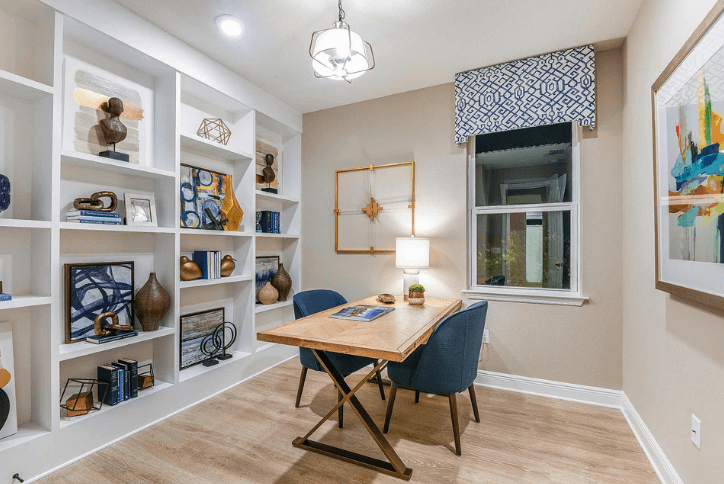 In addition to the basics, like living room, primary bedroom, and kitchen, think about how each space in your home will function. This home office can be found in the Bayview model by Beazer Homes.
Invest in Bedrooms and Bathrooms
Roth suggests maximizing the number of bedrooms and bathrooms in your house during a renovation, and of course, this is usually the biggest consideration when shopping for a new home. Consider how many bedrooms you will need for your family members, and if you will convert a bedroom into a home office. (Don't forget that flex space can play into this as well). You'll also want to think about the number of full baths and powder rooms and how this fits your lifestyle. 
Don't Overspend in the Kitchen
"It's literally where you spend the most time, the hub and heart of the home," says Roth, "and also one of the easiest places to do small things that make a big impact." If you're looking for a stylish kitchen without going over your design budget, consider smaller upgrades, like statement-making fixtures, painted cabinets, or an eye-catching backsplash.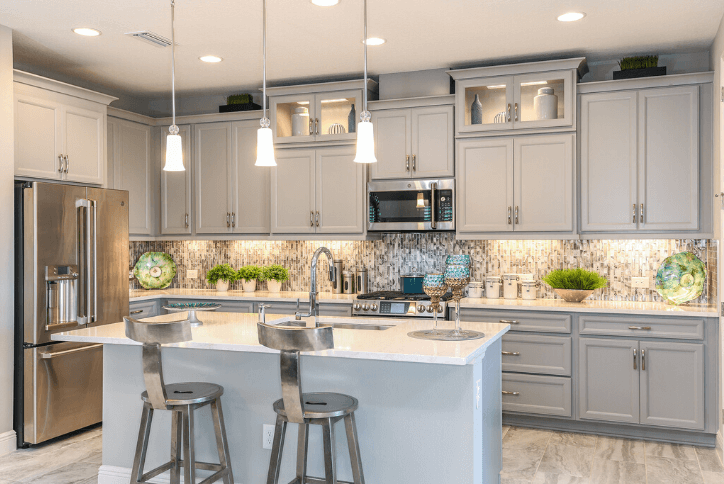 The backsplash in the Sandpiper by Homes by WestBay is a captivating focal point in this kitchen.
Consider Every Inch of the Lot
Your usable space doesn't extend to just what's indoors. "If you can max out that whole space, your living area can feel so much bigger—and you're already buying that land!" says Roth. Seating areas, play space, a fire pit, or a pool can extend the functionality of your home. The front porch is a great place to enjoy the Florida weather, maybe with a good book, a good drink, or both. And the garage is the perfect spot to add extra storage space! 
The Serefina model home transforms the backyard into a perfect entertaining space. 
If you're looking for a new home with maximum value, Waterset's got it. Search our Homefinder for homes that offer convenient flex spaces, livable open floor plans, and the storage you need. Finally, don't forget that a better home doesn't have to mean a bigger home - and with plenty of options, you're sure to find the one that's just right.