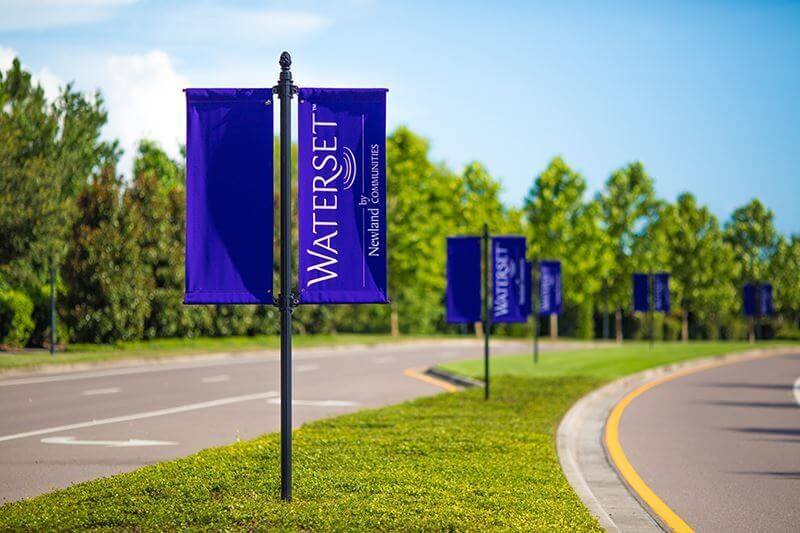 Choosing the Right Community for Your Relocation
Relocations are difficult, whether you're a military member or a civilian. What town do you want to live in? What community do you want to live in? And finally, what house do you want to live in? We've created a step-by-step guide to help you determine the best spot for your relocation.
Where Is the Community Located?
When deciding on the right community, location is important. If you're a military member, consider how close you are to the base. Where are health care options, job opportunities, and travel opportunities?
Waterset is located 30 miles from MacDill Air Force Base, about a 30-45 minute commute. Downtown Tampa is just 21 miles away, and is home to the second-highest job growth in the state. Health care is just three miles away, at St. Joseph's Hospital South. For military members, there is a new VA Clinic just four miles away. Finally, you're close to the airport (29 miles), and three major highways. Explore our community map or area attractions for more information.
What Activities Are Important To You?
You'll want to engage in various activities, as a family, as a couple, or as a single person. Tampa Bay is home to a variety of family-friendly activities, date night hot spots, and more. If you're into sports, Tampa has them in abundance - downtown is home to the Tampa Bay Lightning and the Tampa Bay Buccaneers, and St. Petersburg is home to the Tampa Bay Rays and the Tampa Bay Rowdies. The city also has a thriving social scene, nightlife, and foodie culture. And don't forget the beaches!
Activities inside your community are also important. Waterset offers plenty of opportunities to run, swim, play, and socialize at our many amenities. You can also enjoy great community events.
Do You Have the Opportunity to Hear from Residents?
Talking to the residents of a city or community is a great way to get a better feel for the area. Talk to anyone and everyone who has lived there, and ask why they chose that spot. It's the best way to get the inside scoop!
At Waterset, you can stop by The Landing Cafe and Club for a bite to eat, a community overview, and a chat with our residents. If you can't make it down to Waterset, hear from our residents online here.
Is the Community Pet-Friendly?
We know that your pets are just as important to you as the two-legged members of your family. Is there a place to walk your dog or play fetch? Are there home options that offer space for a litter box? Are the yards spacious enough for Fido or Felix?
Waterset offers all of the above and more! With two dog parks and 12 miles of trails, your pup has plenty of room to play. We also offer a variety of home designs so you can choose what suits your family - including your pets - best.
What Home Options Are Available?
The most important part of finding a place to live is finding a house. The perfect community isn't perfect if it doesn't have your dream house. How many bedrooms and bathrooms do you need? Do you want an open floor plan? A one-, two-, or three-car garage?
Waterset truly has it all: townhomes, villas, and single-family homes. With over 60 floor plans and customization options, you can find the perfect space for you. Browse our Homefinder now to find your dream home!
References:
https://www.bizjournals.com/tampabay/news/2018/06/15/tampa-metros-job-growth-is-second-highest-in-the.html
https://www.tampa.va.gov/locations/SoHi_Clinic.asp