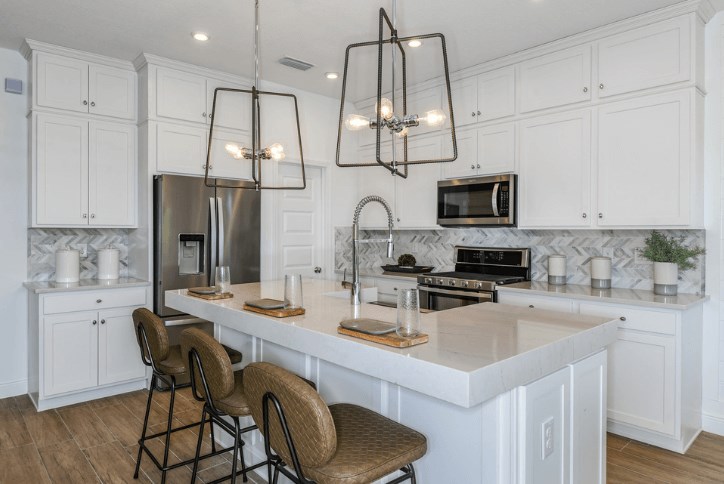 Our Top 6 Tips for a Perfectly Organized Home
With organizing mavens like Marie Kondo and the women from The Home Edit rising in popularity, so is the idea of a gorgeously organized home. Whether you're looking to do a little spring cleaning or overhaul your home completely, here are our top tips for an organized home.
Declutter, declutter, declutter
Here's a tip – if you're not using something, get rid of it. You're not going to use it more by shoving it away somewhere. When you start your organization process, start by editing down your belongings first, and continue to edit on a regular basis. Some organizers use the rule that when an item comes in, another one goes out. Some say if you haven't used it in six months, toss it. While you don't have to follow any hard-and-fast rule (unless you want to, of course), it's a good idea to continuously evaluate if you really need that blouse, that hand-me-down toy, or that so-and-so.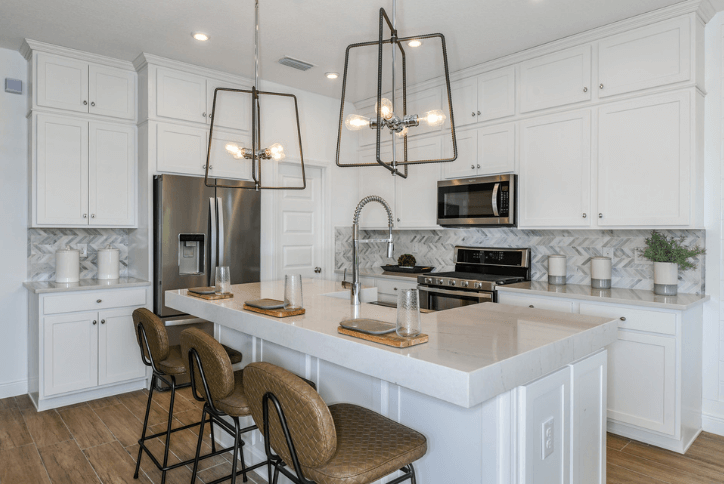 A decluttered home is your first step to a well-organized home. We love this minimalist kitchen from the Brighton 2 model by Cardel Homes!
Organize by categories, not rooms
Chances are, you have similar items in more than one room. For example, you may have towels in the kitchen, laundry room, and multiple bathrooms. Gather up all the items in one category and assess them all at once. The benefits are threefold. First of all, this lets you edit out duplicates or least-favorites. Secondly, it allows you to clean areas that may not have been cleaned in a while. Finally, it forces you to really evaluate if you want to keep something before you put it back. (A criterion we like to use is asking ourselves, "Would I buy this again right now?")
Start simple
Don't tackle large, unruly areas or nostalgic categories first – it's the perfect way to frustrate yourself into abandoning your project. Instead, start with something simple and unemotional, like a junk drawer or silverware drawer. After you've mastered the art of decluttering and re-organizing, you can move on to big areas like the closet or emotional areas, like that box of old photos or shelf of memorabilia.  
Focus on how easy it is to put something away, not how easy it is to find it
How many times have you left something out because it's too much of a bother to put it away right at this very moment? Now, consider the opposite situation. When you need something, you're going to go pull it out, wherever it may be. Focus on systems that allow you (and especially your spouse and children) to put things away quickly and easily.
Assign and label zones
When you have an assigned place for every item, you know exactly where to put things back. A few items that could create a zone? A tray, a bin, a drawer, or a shelf. Add a decorative label for ease and aesthetics. Creating zones also limits the amount of clutter you can bring into your home – if your zone is full, don't buy any more of that item.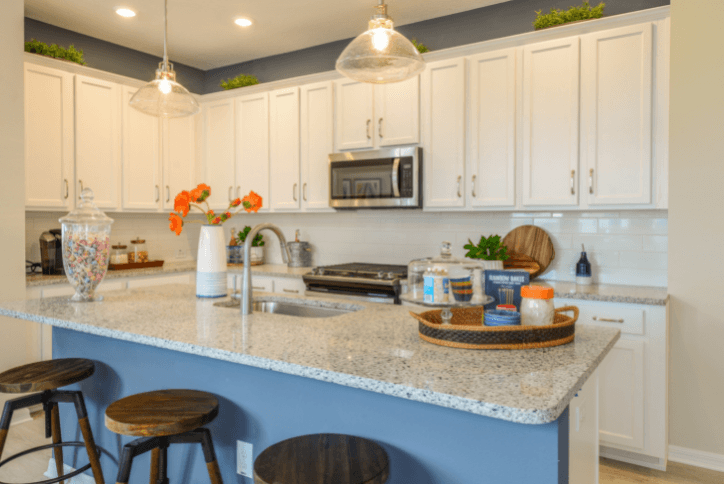 Trays and clear containers are decorative and useful for keeping clutter in check! Take this kitchen in the Queensgate model by David Weekley Homes for example!
Consider the aesthetics
When you find your home organization system aesthetically pleasing, you're much more likely to keep up with it. There are storage containers of every size, shape, and color and you can create a beautiful organization system without spending a fortune. Joanna and Clea of The Home Edit like to display items in rainbow order for an appealing look, but you can find what's beautiful to you.
We hope these tips help! You may also enjoy reading our list of essentials for an efficient home office, ways to go green at home, or how to hygge.